Roof Repairs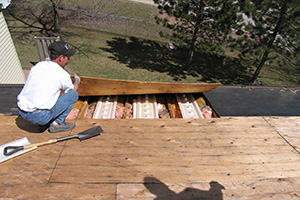 The materials used in the installation of your home or commercial building's roof can sometimes be the cause of problems. Your roof may not be constructed from the best quality shingles, or your past roofing contractor's installation, replacement or roof repair techniques may be lacking. Extreme Southern Ontario weather may also be a source of damage to your commercial or residential roof. At Tops Roofing, our Milton roofing team is fully equipped to repair any style of residential or commercial roof in Milton, Burlington, Mississauga, Oakville, Grimsby, Hamilton, Etobicoke, Dundas, Ancaster, Stoney Creek or neighbouring cities. Our roof repairs services are suitable for a wide range ofcommercial and residential roofing system issues:
Valleys
A small, metal channel that is placed on the V shape of your house's or commercial property's roof whose purpose is to help drain liquid away from it. Valleys can easily lift, causing fungus to build up underneath, and potentially causing leaks into your residence or business. Our Milton roofing crew's roof repairs services can help to solve this damaging problem.
Ice dams
Caused by melting snow or ice that refreezes, ice dams block moisture from properly draining into a commercial or residential roofing systems eavestroughs. Ice dams can cause extensive damage to roofs, not to mention the underlying structure, but can easily be eliminated with the help of our Milton roofing teams roof repairs abilities.
Bad or leaking pipe flashing
Rainwater and snow can cause the vent pipes underneath your residential or commercial roofing system's shingles to rust and corrode, resulting in moisture leaks into your home or business. To avoid any damage caused by bad or leaking pipe flashing, depend on our Milton roofing team for excellent roof repairs.
Missing shingles
Shingles can go missing because of high winds, or because they were not installed properly to begin with. Missing shingles can easily be the source of roof leaks that infiltrate and damage your commercial building or home. Trust Tops Roofing's Milton roofing crew to replace your missing shingles.
Chimney or skylight step flashing
Your home or commercial property's chimney or skylight structural integrity can be compromised by strong winds. Their sealants can wear down, causing damaging leaks to occur. This issue can easily be remedied with the help of our Milton roofing team of commercial and residential roofing experts.
Low slope or inadequate roof pitch
Residential and commercial roofing systems that have a low slope or inadequate roof pitch are vulnerable to damage caused by wind, rainwater and snow. Tops Roofing's team of Milton roofing professionals can help you to prevent damages to your roof with the help of their roof repairs services.
It's critical that homeowners, and commercial property owners, keep an eye on their roofs and take note of any abnormalities and the damages caused by them. Correcting them as soon as possible will go a long way in preventing more extensive damage, and save on the cost of replacing their commercial or residential roofing systems. Connect with Tops Roofing for a free roof repairs consultation and quote. Our Milton roofing crew are ready and able to assist you with all of your home or commercial building's roof repairs needs!